London Wolves 5 5th,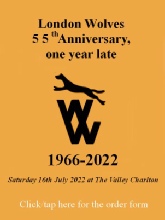 , one year late
Anniversary Dinner
1966-2022
16th July 2022
In
The Club 1905 Suite
Charlton Athletic Football Club
The Valley
Floyd Road
London SE7 8BL
Please click/tap the Leaping Wolf for the booking form
Our 55th Anniversary Dinner (one year late) is at 7pm for 7:30 in the Charlton Athletic Football Club 1905 Suite (West Stand), The Valley, Floyd Road, London SE7 8B. Doors open 6:30pm. Bar closes 1am. Carriages 1:15am
Dress code; Smart casual.
Ticket prices:
Members £50 per head
Non-members £60 per head
The ticket includes entry to the event with a carvery meal.
All named family members on a current paid up family membership qualify for the member's price (one or two adult members plus registered under 18s)
Deputy Chairman Dave Hodges writes:
This summer the committee have prepared an evening to celebrate the 55th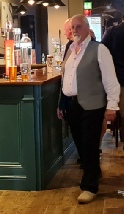 anniversary of the formation of London Wolves (Allbeit the 56th year!). We have plenty more to celebrate with our back-to-back selection as World Wide Wolves UK Supporters' Club of the year.
We return to The Valley, the home of Charlton Athletic on Saturday 16thJuly. On this occasion we are breaking with tradition and have opted for a more casual evening. Instead of a set dinner, we have seen that a carvery would be more popular. It will be overseen by the head chef and his staff who will be in attendance for two hours. Typically they have excellent beef and, glazed ham, with roast accompaniments as well as a vegetarian option. The carvery approach enables members and guests to eat when they wish and all will find much more time to enjoy the company of our guests or perhaps have a dance or two - with yours truly (Dodges) be providing the sounds. This has also helped us reduce prices from the 50th dinner! The lounge we have booked over looks the pitch and a bar, of course, with the dance floor alongside.
We have all the ingredients to make this celebration a success. The most important thing needed to make this a memorable evening is YOU... Our members.
On a personal note to be amongst you guys has provided me with some great times. Please join me and my fellow committee members in celebration of our remarkable Wolverhampton Wanderers London Supporters' Club.
So please put this in your diary - Saturday July 16 at The Valley
Dodges
We are, of course, sharing the event with former players and executives associated with the Wolves, so there will also be opportunities for autographs and photographs.
A limited number of special rate hotel rooms are available about 10 minutes ride from the Valley. These are double rooms including breakfast at £120 per night. Details of the hotel are given in an email to members.
To reserve tickets and / or hotel rooms please pay in full. Payments are non-refundable.
There is ample parking at the Valley while Charlton Railway station is just 5 minutes walk (trains from London Bridge)
The dinner will be held in the Club 1905 Suite (West Stand) with a great view of the pitch
If there are any relevant Covid restrictions in force in July, whether government or football club imposed, members who have booked will be notified of what is required
Menu:
Carvery Menu:
Honey glazed gammon, violeta mustard, parsley crumb

Rare roasted topside, horseradish cream, Yorkshire pudding

Seasonal vegetable wellington

Heritage carrots, Sprouting broccoli

Grilled cabbage, Roast potatoes

* * * * * *

Brioche bread and butter pudding, white chocolate & vanilla ice cream

Profiteroles topped with warm chocolate sauce and dipped strawberries

* * * * * *

Tea & coffee
To reserve your place place please click on the leaping wolf at the top of the page or here for the booking form. Please enter your name and the number of member and non-member tickets plus how many rooms you require. The form will calculate the payment required, Please complete the other details. When you press submit it will send an email to Stuart to reserve your place and copy Carol to reconcile payments. We ask you to make things easier for the Treasurer by paying through bank transfer on-line. Tickets will only be issued once payment in full has been received and there is no admission to the event without a ticket.
If you cannot pay by bank transfer then before pressing submit please print a copy of the form for and enclose it with your cheque for the deposit made payable to WWLSC. and enclose it with your cheque for the payment made payable to WWLSC. You should send this within a week of registering to Carol at
Carol Woodifield, WWLSC Treasurer,
94 FARNHAM CLOSE RAINHAM KENT ME8 8NS
Your email booking request will go to Stuart for registration.
Printed forms can also by requested from Dave, or a form for printing by emailing Peter B webmaster@londonwolves.com
Pictures from the 50th courtesy of our "official photographer" for the event, member Rob Clayton. Rob's own professional website is here https://robclaytonphotography.co.uk/